News
SHARPE Grandly Introduces U. S. ARMOR NIJ 0101.06 Bullet-Resistant Vests, Rifle Plates and Ballistic Helmets to Taiwan
(Taipei Taiwan, 8/5/2014) - In regard to the current situation that most of the ballistic products in Taiwan are NIJ 0101.04 certified, which is the older standard, SHARPE specifically brings made-in-USA U. S. ARMOR NIJ 0101.06 certified, the latest standard, ballistic vests and ballistic plates to Taiwan customers. The introduced U. S. ARMOR bullet resistant vests are level IIIA and the bullet resistant plates are level III, III+ and IV. Besides 0101.06 certified products, several NIJ 0108.01 level IIIA bullet resistant helmets are also introduced. It's believed that these ballistic products will definitely give Taiwan customers a brand new and totally different body armor wearing experience.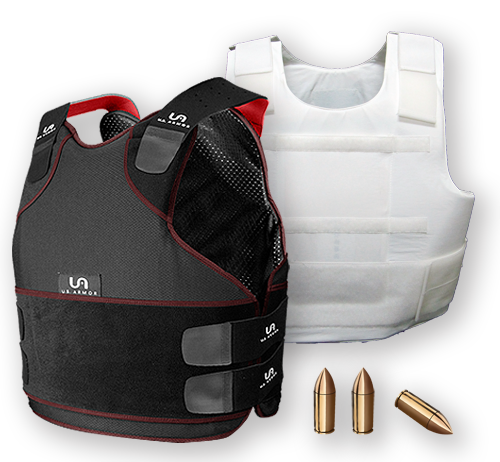 U. S. ARMOR ballistic vests series Enforcer 6000, XP, 5000 and 2000 are all made in the United States and NIJ 0101.06 certified. Different ballistic materials such as DuPont Kelvar, Honeywell Gold Flex and Spectra Shield II are chosen and used in order to further enhance the ballistic capability and wearing comfort. Advanced Core Matrix fiber technology, six-point elastic VELCRO closure system and removable strap system make the wear of the ballistic vests more convenient and comfortable. There are many options for trauma plates, including Enhanced Ballistic Plates (IIIA), Flexible Soft Ballistic (non-rated), Flexible Soft Ballistic (Level IIIA), Steel Trauma Plate, AP Handgun Steel Trauma Plate (TOKAREV/MAKAROV) and Titanium Blade (TB3). Moreover, customers can choose Copper Thread technology used in vest carriers and in conjunction with premium spacer fabric to provide additionally airflow and proven relief from prickly heat rash and other body heat complications. Vest carriers with Outlast fiber technology, which is also used by NASA to provide a cooling effect, are also available.
Compared to the previous 0101.04 standard, NIJ 0101.06 requires more samples to be submitted for testing and the samples are tested with higher shooting velocities. Besides testing new samples, part of the submitted samples will be placed under water for a specified period of time and gone through the tumbling procedure before the shooting test. These additional procedures aim to simulate the situations of used vests and possibly environmental conditions in the real-life. Two tables are presented to compare between NIJ 0101.04 and NIJ 0101.06 ballistic standards at the bottom of the press release.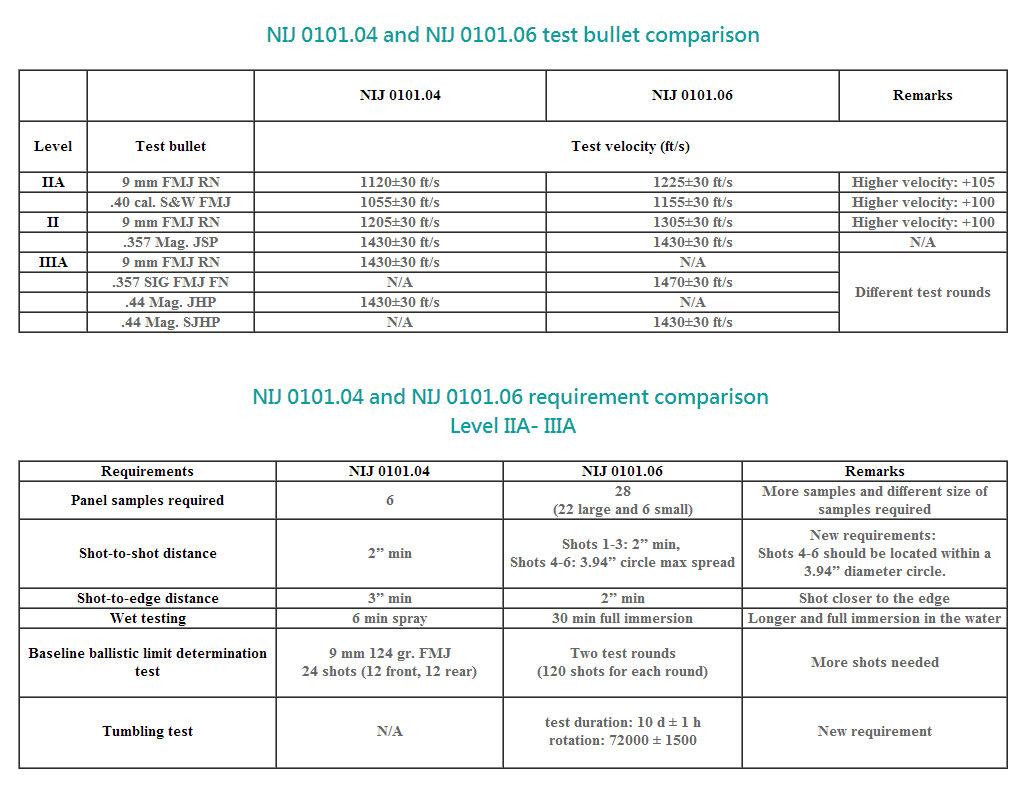 SHARPE also brings NIJ 0101.06 certified level III, III+ or IV rifle plates in various sizes and made from different materials (polyethylene or high-density alumina ceramic core). As for ballistic helmets, they are NIJ 01018.01 certified and level IIIA with fully adjustable harness systems for increased comfort and stability of wear. Customers can choose different styles, such as full coverage design, high cut design, no-visor helmet design, built-in Picatinny rails system, and NVG front mount for additional optics and illumination equipment to fulfill individual needs.
Targeted customers for these products are, for example, law enforcement officers, secret agents, security guards, etc. SHARPE aims to offer personalized bullet resistant products giving better comfort of wear and incorporating the latest ballistic technology. So customers can have more pleasant ballistic gear wearing experience and ensure their own safety while protecting others.
About SHARPE
SHARPE is a brand created in 2013 by two companies, Yungyi International Merchandise Co., Ltd. and Global Merchandise Link Inc., to provide defense and security related products to worldwide customers
Global Merchandise Link Inc. (GML) was established in Oct 2006 to facilitate the ever frequent trades between western and eastern countries. Since 2006 GML has built good relationships with worldwide contacts, representatives and/or distribution partners in respective business fields. GML's partners in Asia are specialized in offering electronic components, consumer electronics, defense and security products, and garment-making and -trading. In Jan 2011, GML HCMC Vietnam office was established to further seek opportunities in the ASEAN region. GML's website: www.gml-group.com.
Yungyi International Merchandise Co., Ltd. (YUNGYI) was established in Sept 2009. YUNGYI, besides aforementioned business fields, also offers funeral services to Taiwanese people and provides repatriation services to deceased foreigners in Taiwan. YUNGYI's website: www.yy-int.com.
Contact
Media Contact
Mr. Wang
TEL: 886-2-27008682
Email: sales@sharpe-security.com
www.sharpe-security.com